Find Institutes
National Pingtung University, Chinese Language Center (CLC)
:::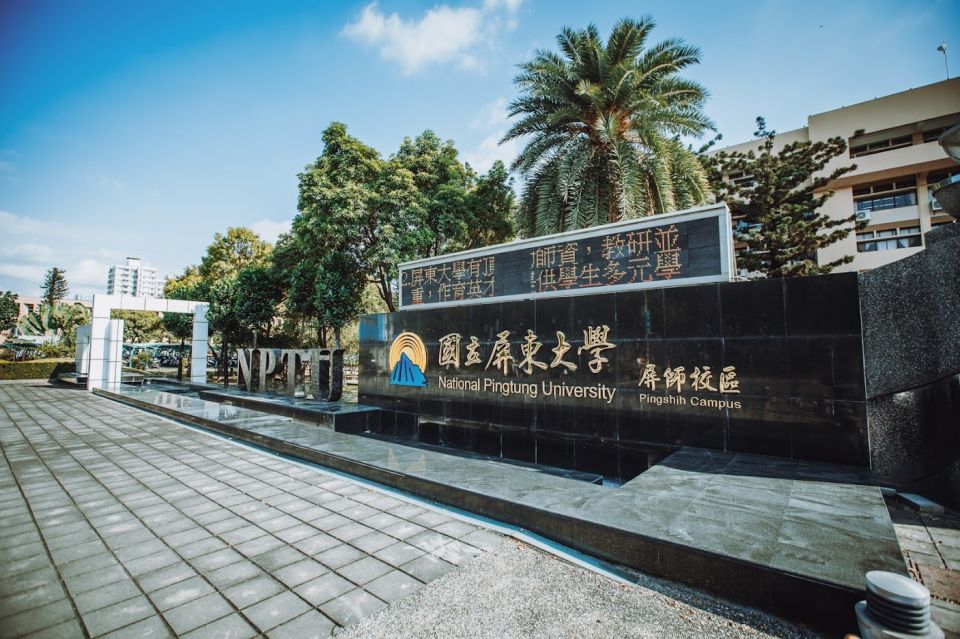 Features
Accommodation

Student Restaurant

Extracurricular teaching

Related Certificate

Near Train Station
Location:

South, Pingtung County

Established Date:

2005
National Pingtung University, Chinese Language Center (CLC)
Teachers:

Full-time teacher 1 people, Part-time teacher 5 people

Contact Person:

Sonia Lee

Email:

clc@mail.nptu.edu.tw

Telephone:

886-8-766-3800 ext.24001~24002

FAX:

886-8-722-6409
Admission Conditions:
Applicants are above 18 years old or with high school education diploma can apply for the programmes offered by the Centre.
Adolescents between 15 to 17 years old or above, as long as written consent is received from their parents or guardians and there is/ are guardian(s) in Taiwan, are allowed to join the programmes offered by the Centre.
Application:
Online application (Email: clc@mail.nptu.edu.tw or nptulc@gmail.com), On-site and postal applications are both accepted.
Once the application documents are received, CLC will immediately start to process them.
When the registration successful, CLC will send the admission letter to your registered address within 15 business days.
E-mail Required Documents
Application Form

Download and fill in the application form.
Attach a passport-sized color photograph.

Passport Copy:A photocopy of the bio-page of your passport.
Proof of Financial Support
(it is only necessary to provide one of the four possible options)

An original copy of a bank account statement showing at least NT$100,000 or equivalent in other currencies, the statement must be from within the last three months.
If a relative's bank account statement is provided, the relative must write an explanation of their relationship to the student and guarantee their willingness to fund their expenses.
Proof of a Scholarship
Proof of a Bank loan

Copy of Diploma

High School:A photocopy of your High School Diploma or a University acceptance letter for the current year.
University:Your University Diploma or your student ID card.
On-site Application
You and/or a friend of yours are also more than welcome to come to the Chinese Language Center and personally hand in all necessary documentation.
Notices
The above documents must be written in either Chinese or English. If they are written in any other language, then a translation by an approved organization must also be provided.
Applicants applying from abroad: Please send application to the CLC 6 weeks before the date of the first class.
Applicants applying locally: Please send application to the CLC 2 weeks before the date of the first class.
The CLC will issue the school admission permit immediately after your application has been processed, please allow time for it to be received. Please feel free to contact us if you have any further questions.
School Introduction:
National Pingtung University (NPTU)
National Pingtung University (NPTU) is located in Pingtung county, which seat of the southernmost of Taiwan's 19 counties.
With a population of over 900,000, Pingtung is a bustling marketing and industrial center.
Pingtung County is one of Taiwan's major zones of agricultural production, yielding rice and other produce enjoyed throughout the island.
Pingtung has a justified reputation as a lush and prosperous region.
NPTU was established by the merging of National Pingtung University of Education and the National Pingtung Institute of Commerce on August 1, 2014. After being merged, NPTU has become a mix of normal, managerial, computer science, technological, and higher education within one university in Pingtung County.
There are 5 academic / teaching colleges in the university as follows:
- College of Management
- College of Computer Sciences
- College of Education
- College of Liberal Arts and Social Sciences
- College of Computer Science Besides
Some administrative departments are also incorporated in NPTU.
NPTU –Chinese Language Center (CLC)
We run Mandarin Chinese programs for overseas students and alien residents in Taiwan all year round. All courses are written and designed by specialists, ensuring a high-quality learning experience. We also provide Mandarin language teachers' training courses. CLD has very experienced Chinese teachers, excellent teaching materials, comfortable campus, supportive and caring staff and an enjoyable learning environment. In addition to this, Pingtung's very friendly people, moderate living expenses and lovely scenery have made CLD a fantastic place to learn Mandarin.
The Benefits of Studying Chinese at NPTU
Specialized classes: course content, pace of progression, class time, and teaching materials all designed with the student's specific needs in mind.
Friendly and helpful service: The Center's Chinese teachers and administrative staff work closely with students, helping them to get settled and looking after their everyday needs.
Study courses are complemented with local cultural activities.
Convenient location: the campus consists of an athletic center and is close to the city center.
Diverse local cultures: Pingtung is made up of people of various cultural backgrounds, including Hokkien Taiwanese who hail from the Southern Fujian Province of China, Hakka people, and the indigenous aboriginal population.
Convenient transportation: A free bicycle rental station is located just off campus.
The area is known for its safe environment, pleasant weather, and low cost of living, which makes it an ideal place to study.
Just a scooter or bus ride away, you'll find beautiful mountains and waterfalls, such as Da Wu Mountain and the Kenting coastline.
Others:
Contact Us
Chinese Language Center (CLC), National Pingtung University
Address: Jing-Ye Building, 2nd Floor, #1 Linsen Rd., Pingtung City, Pingtung County 90003, Taiwan (ROC)
TEL: 886-8-7663800 Ext. 24001~24002|FAX: 886-8-7226409
E-mail:clc@mail.nptu.edu.tw

If you have any questions, please email us or call during office hours (Monday to Friday, 8:30-12:00; 13:30-17:30)