Find Institutes
Chinese Language Division,Language Center, National Pingtung University of Science and Technology
:::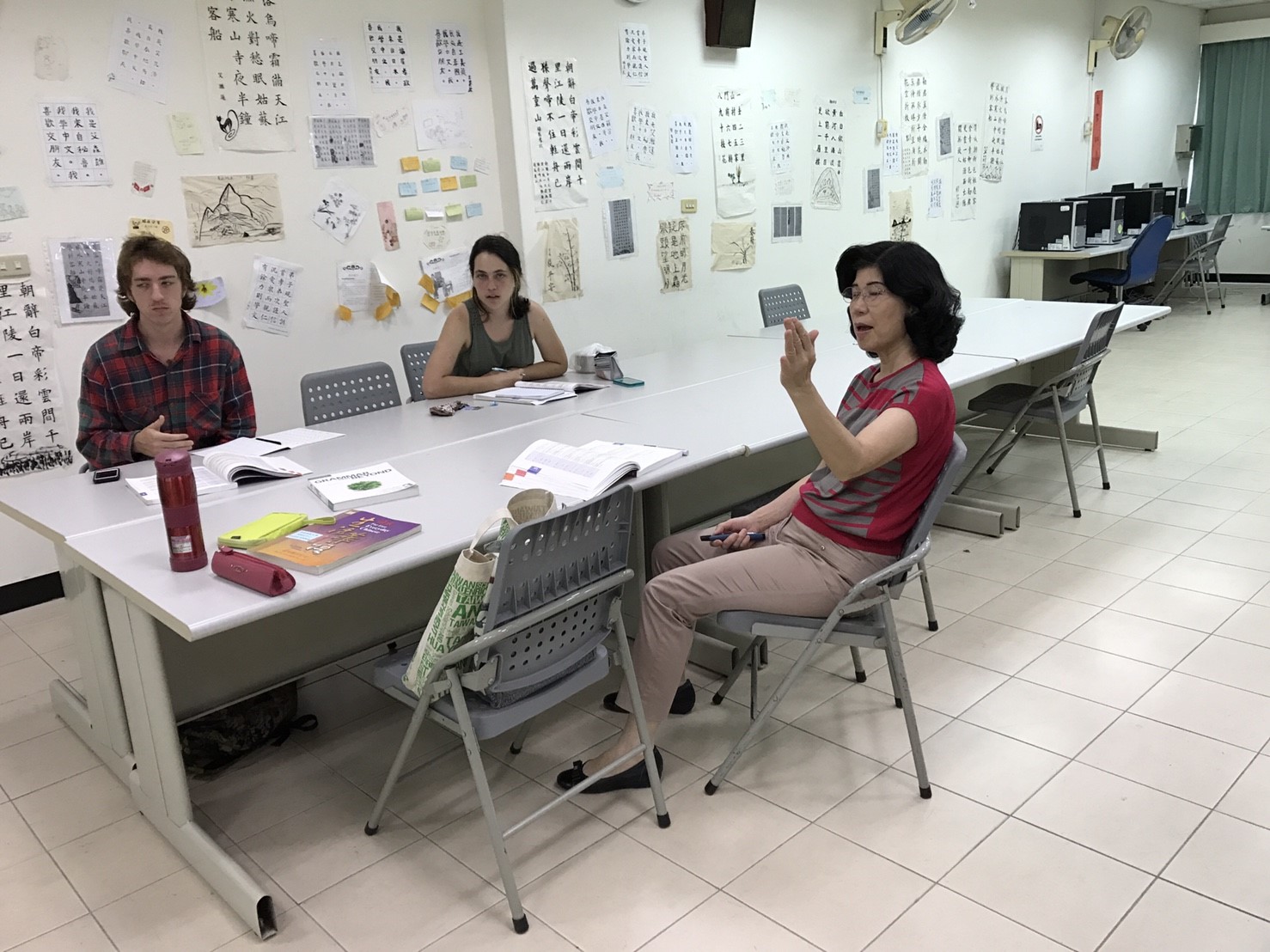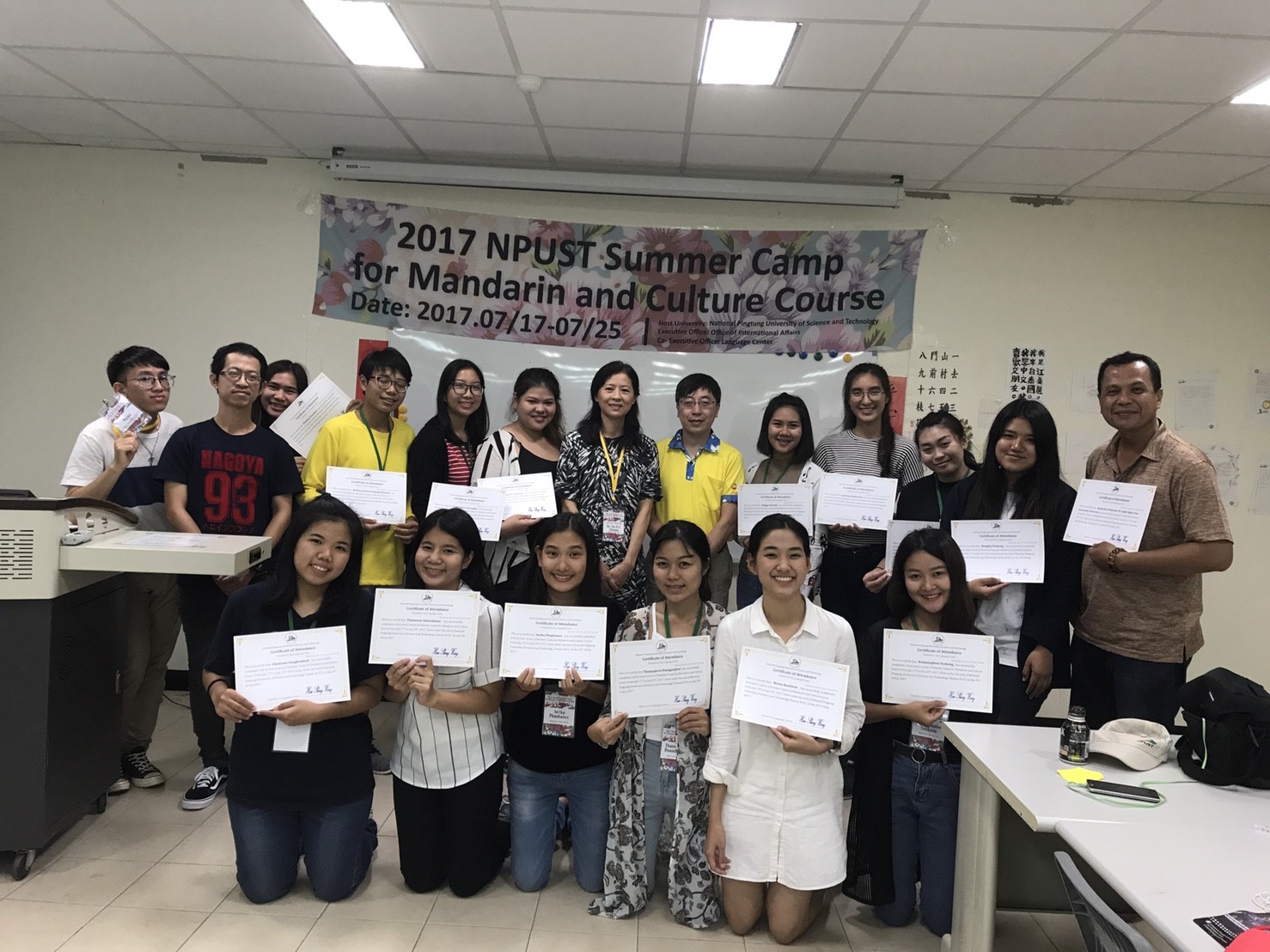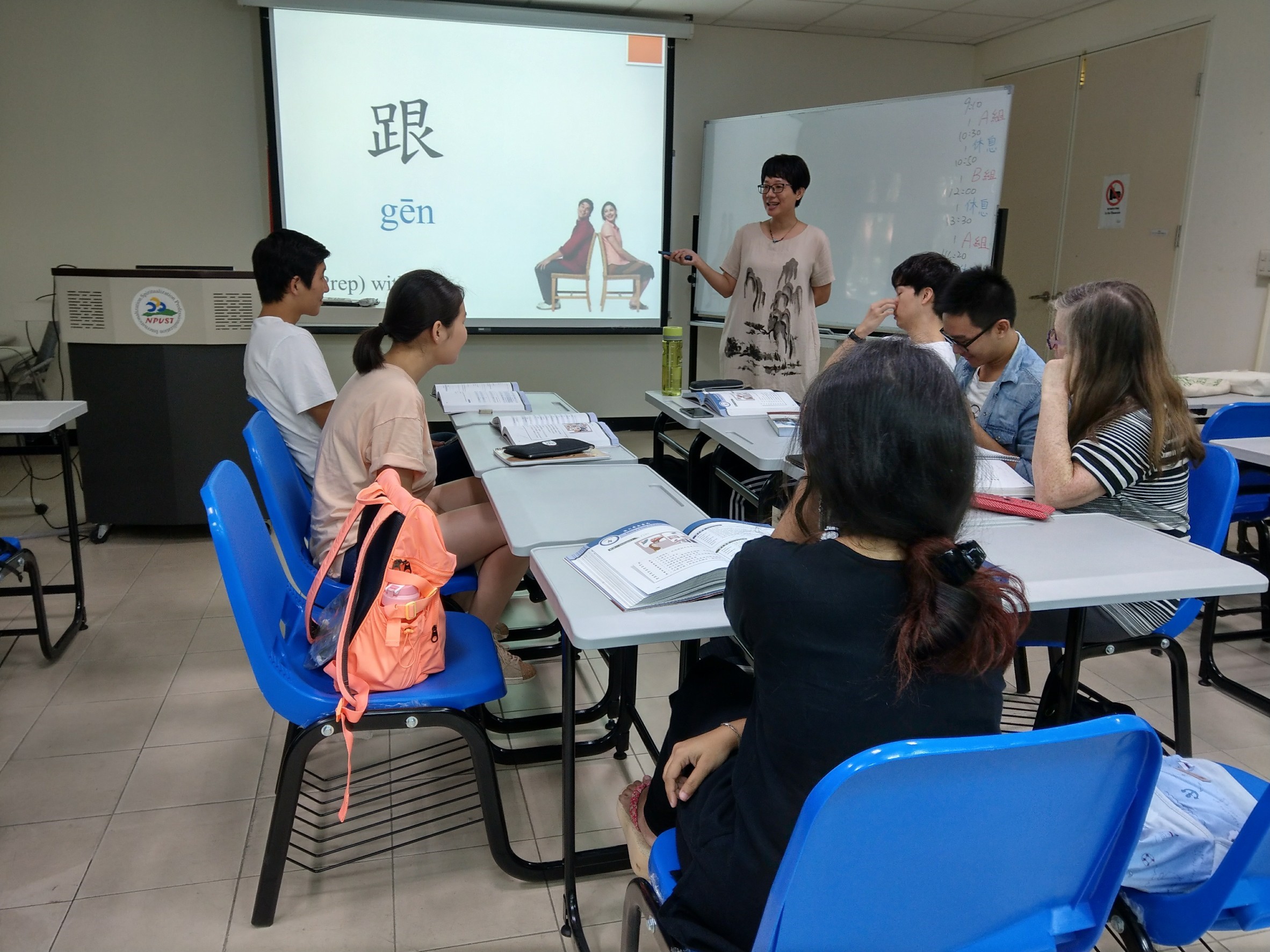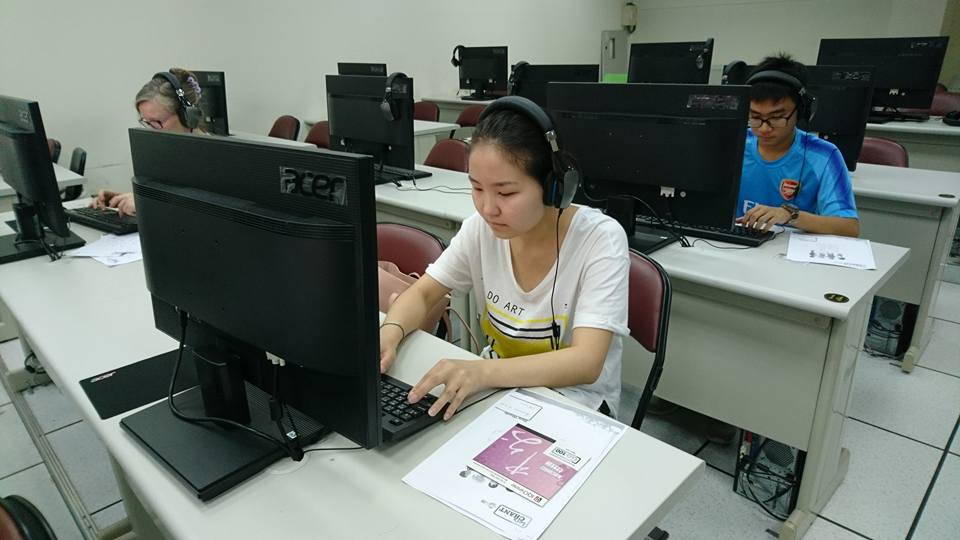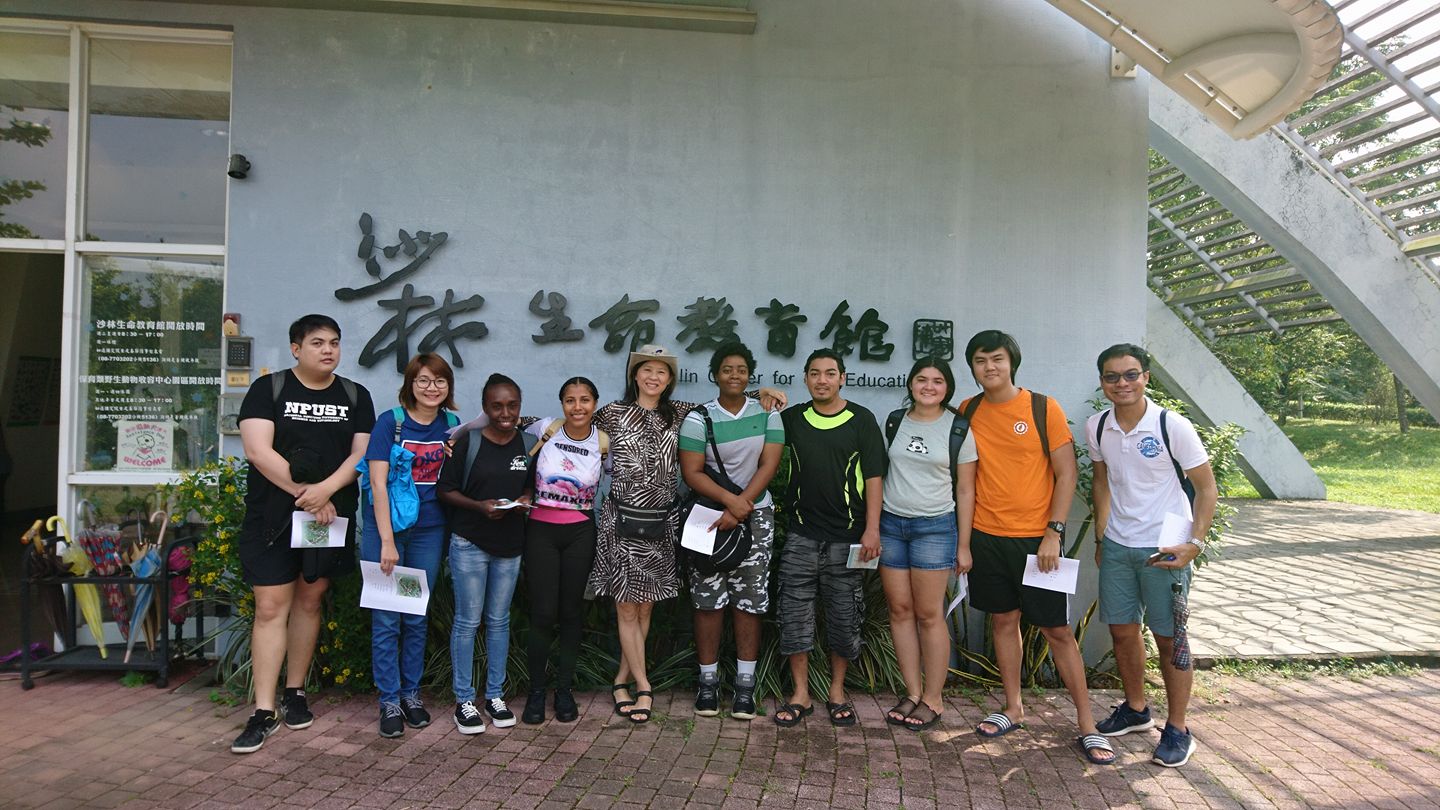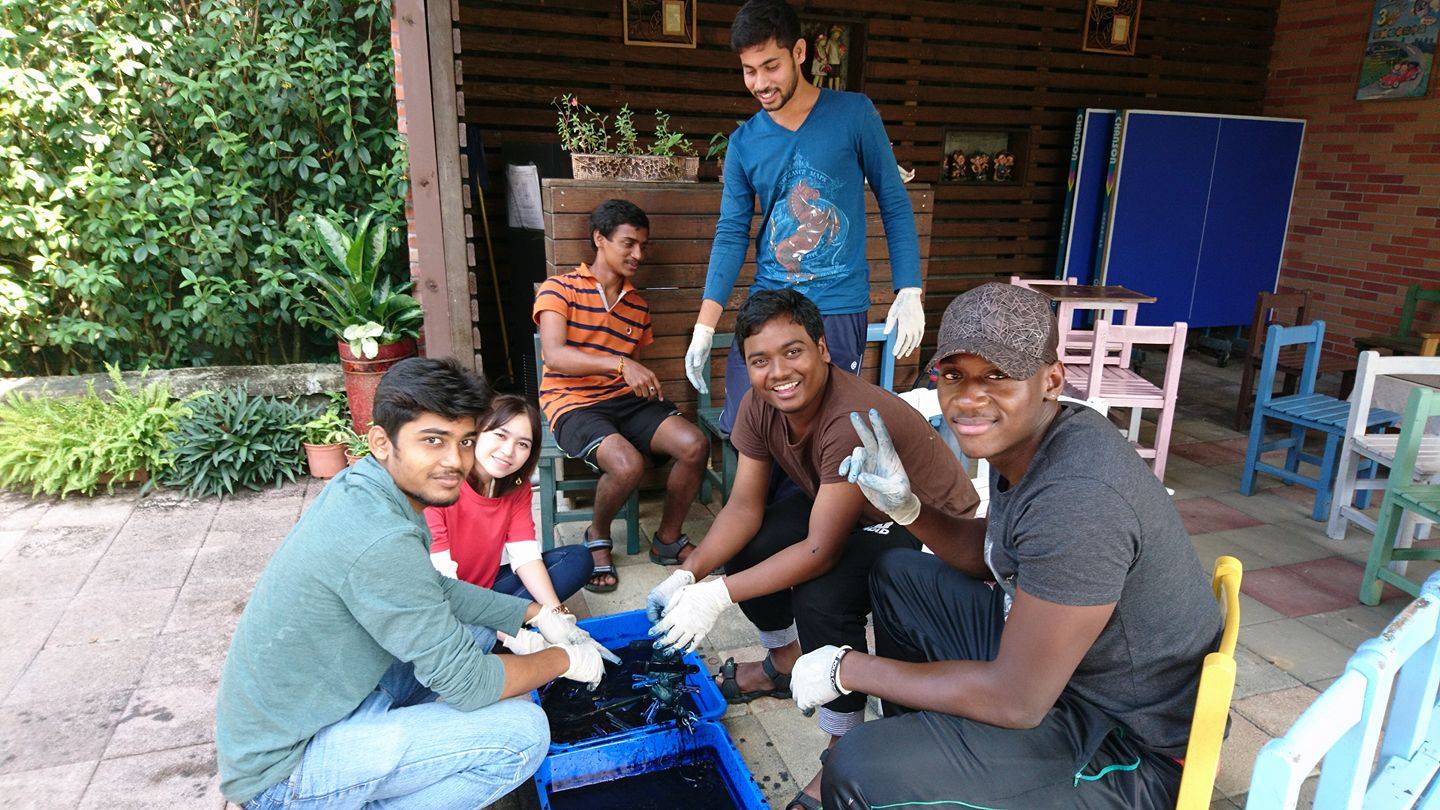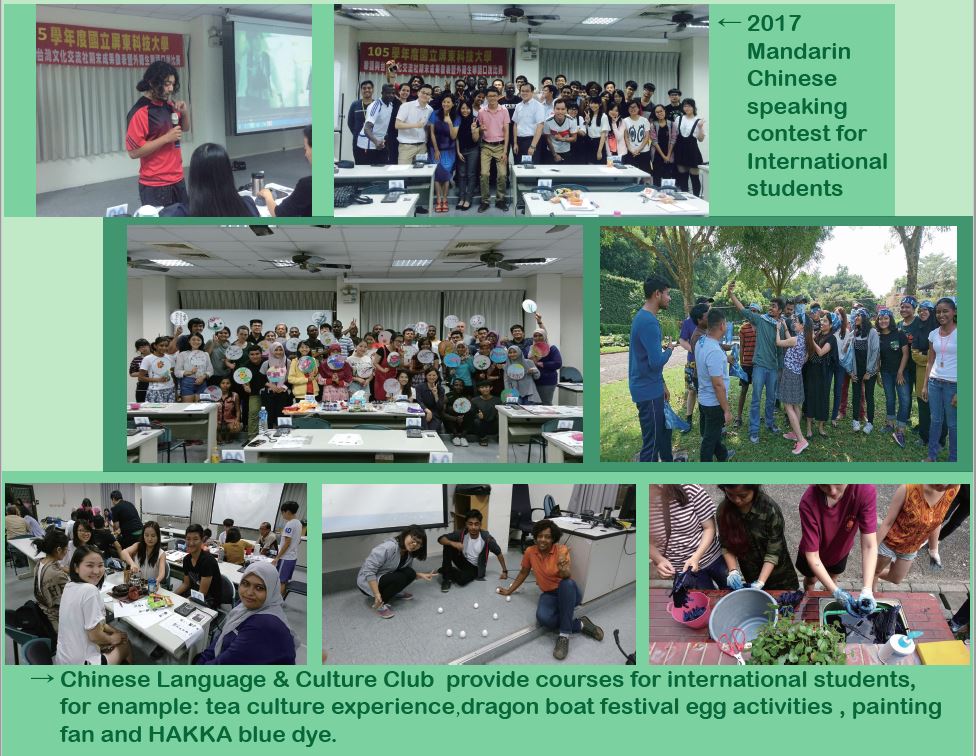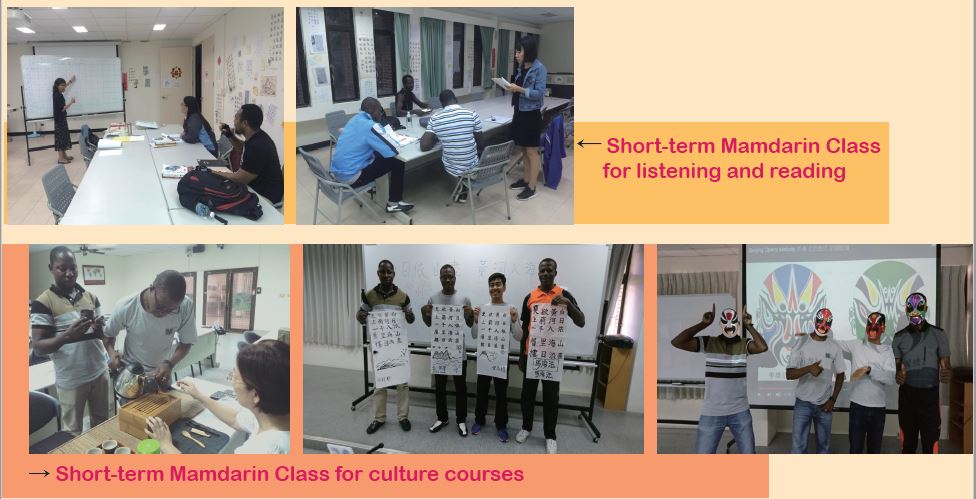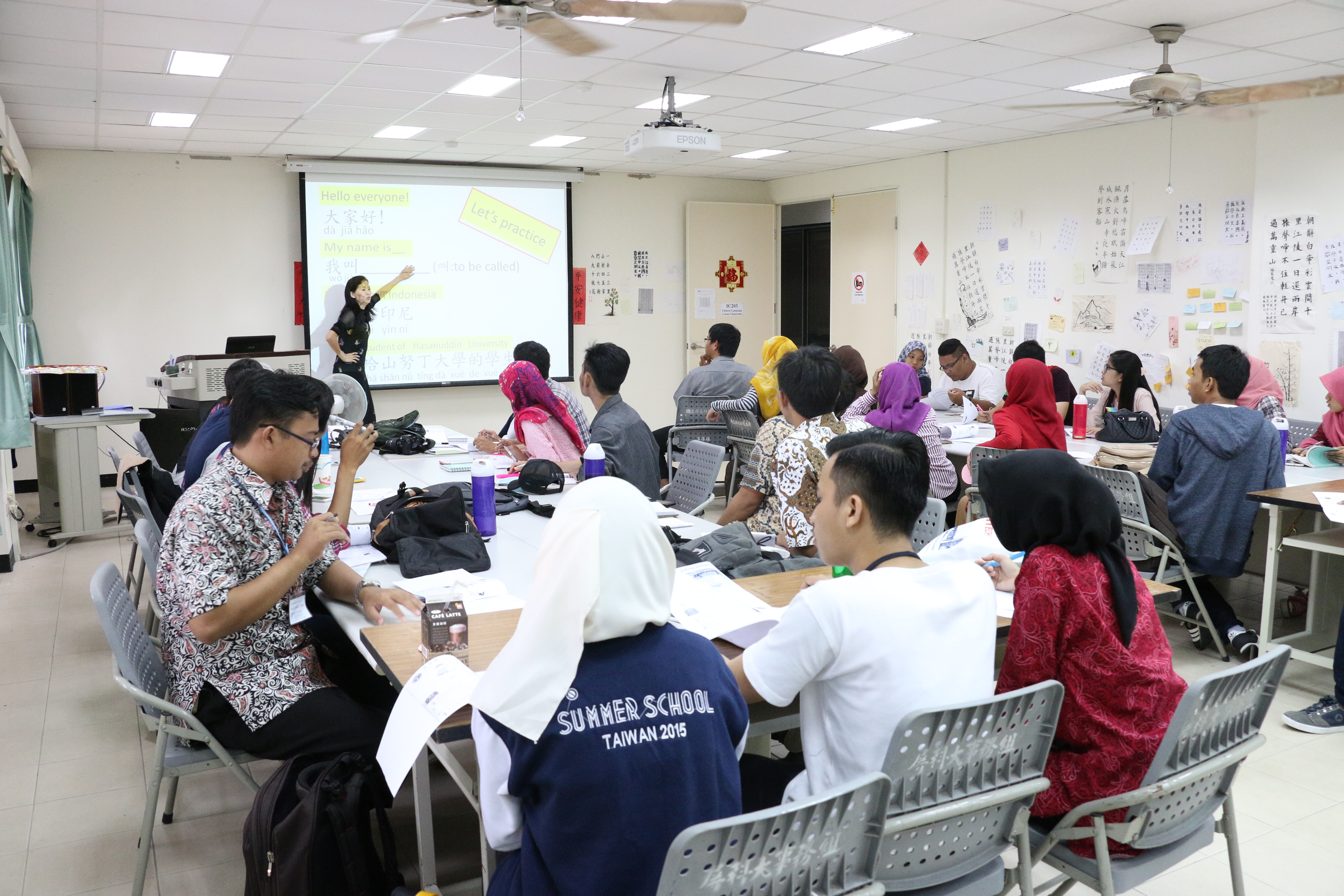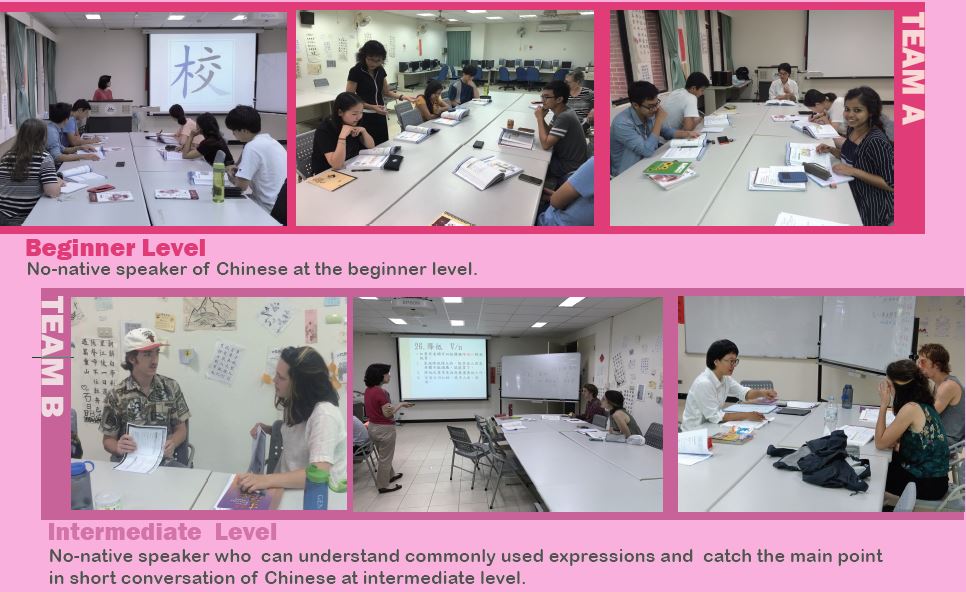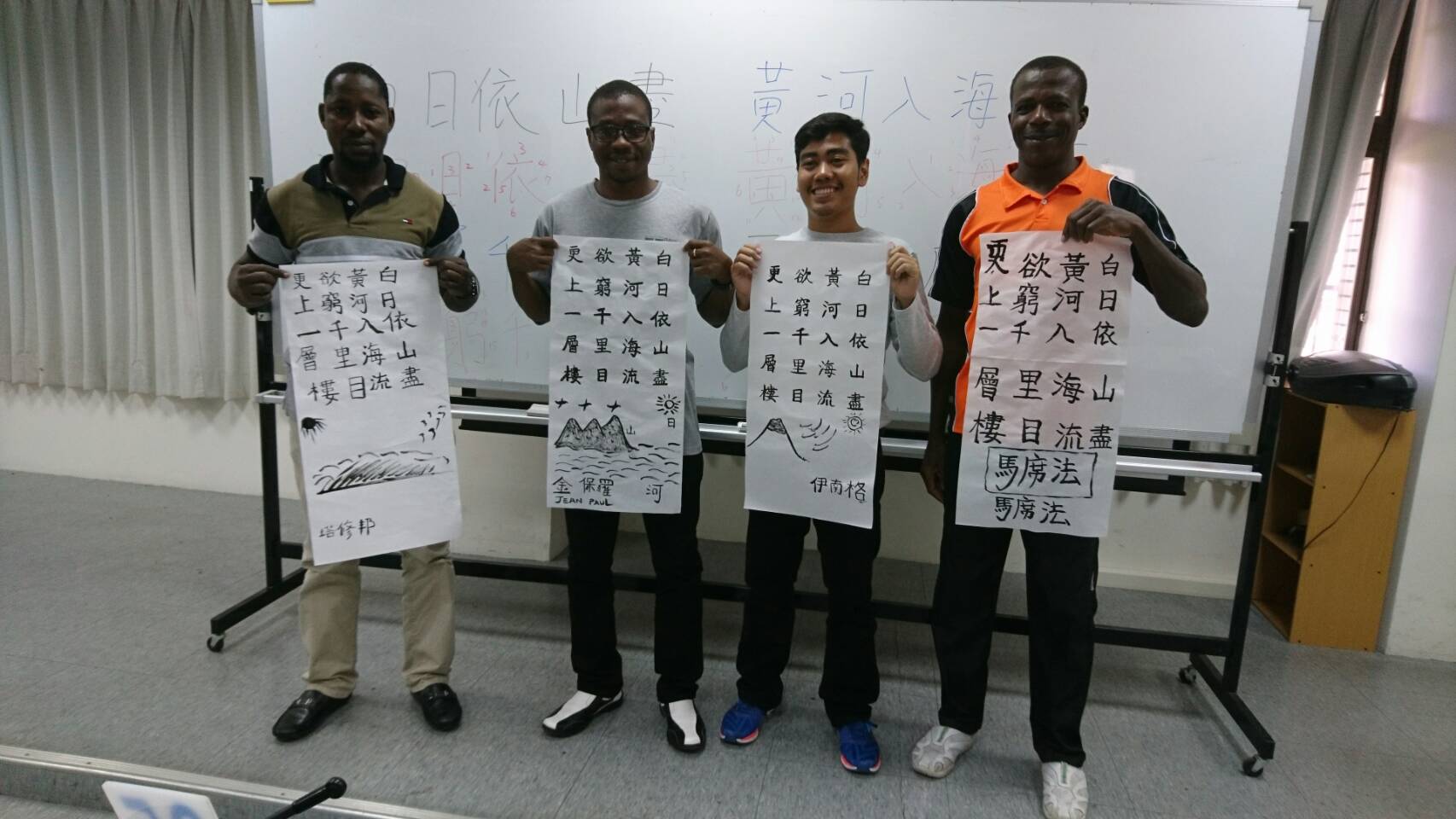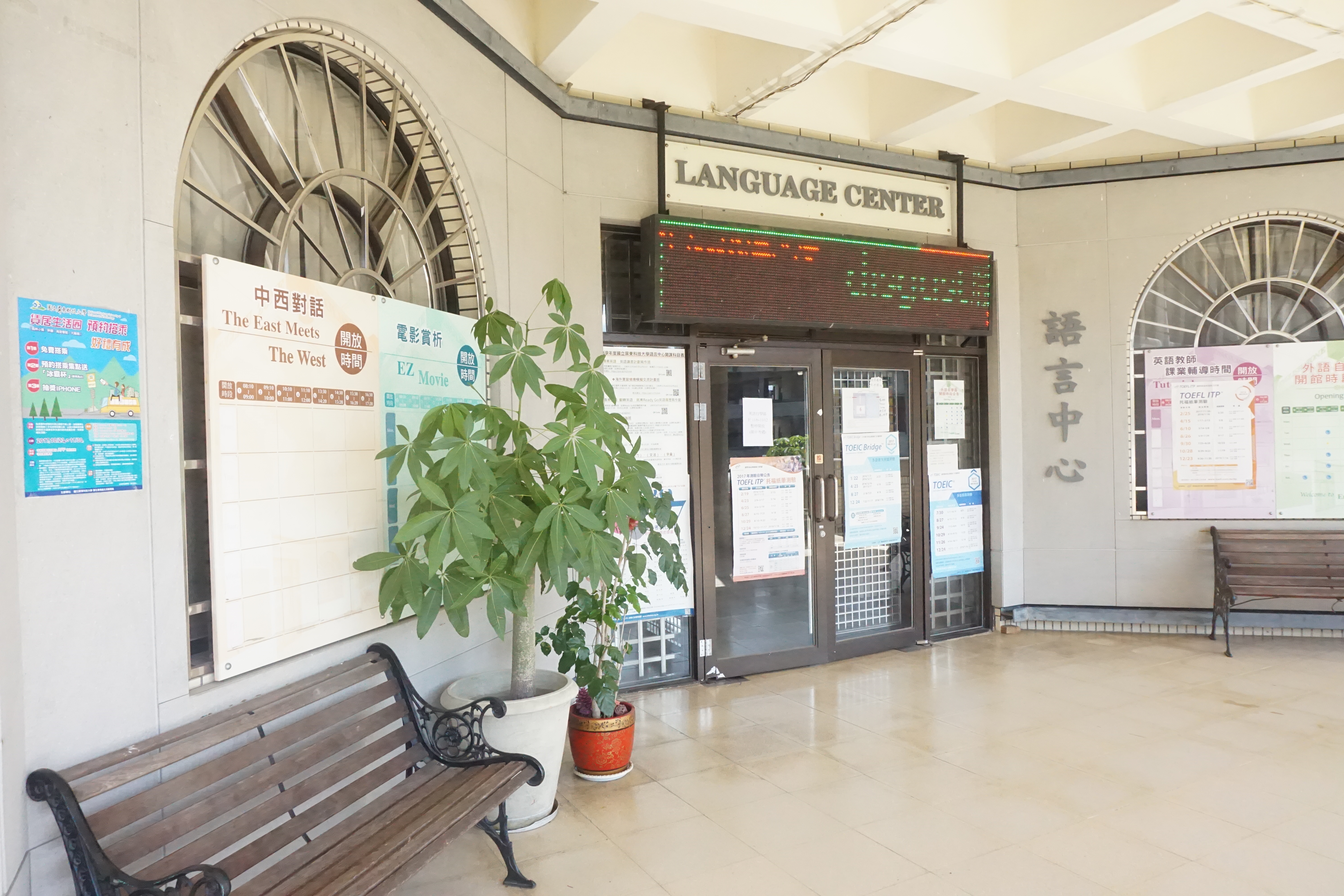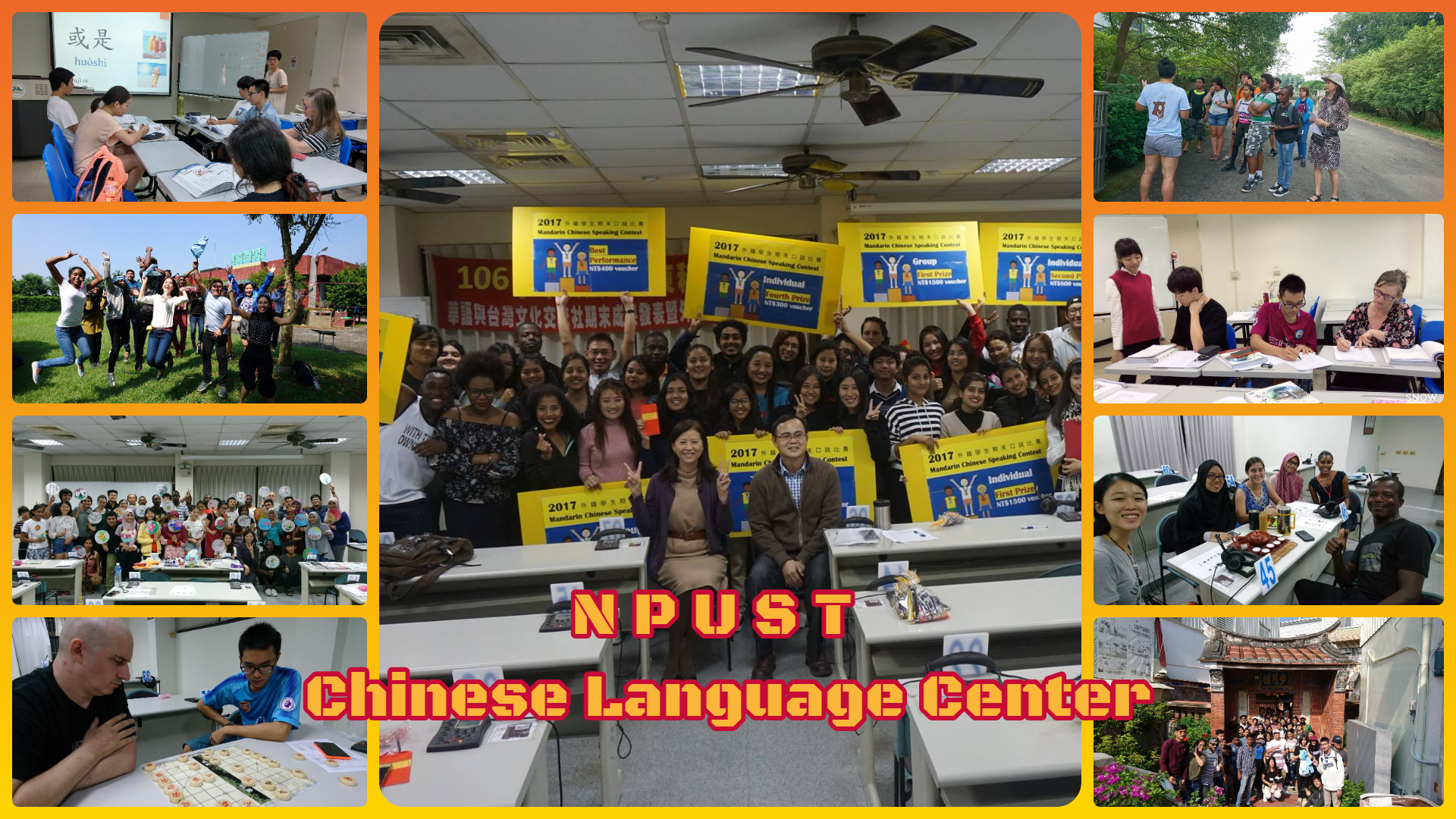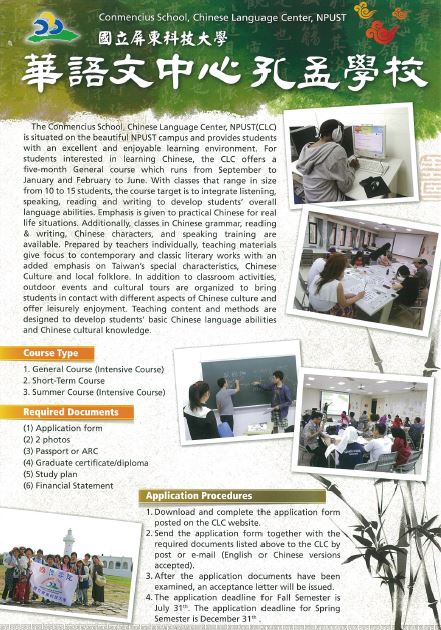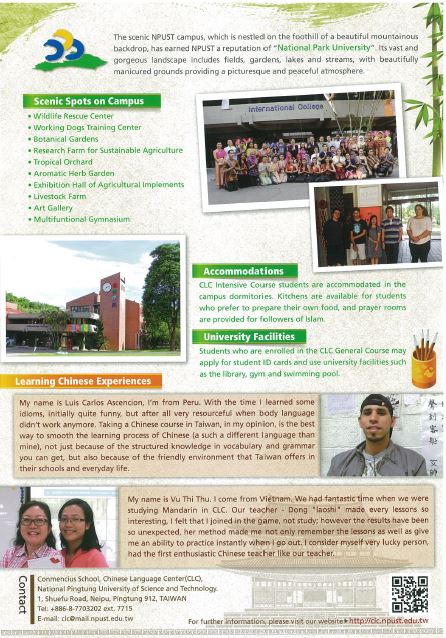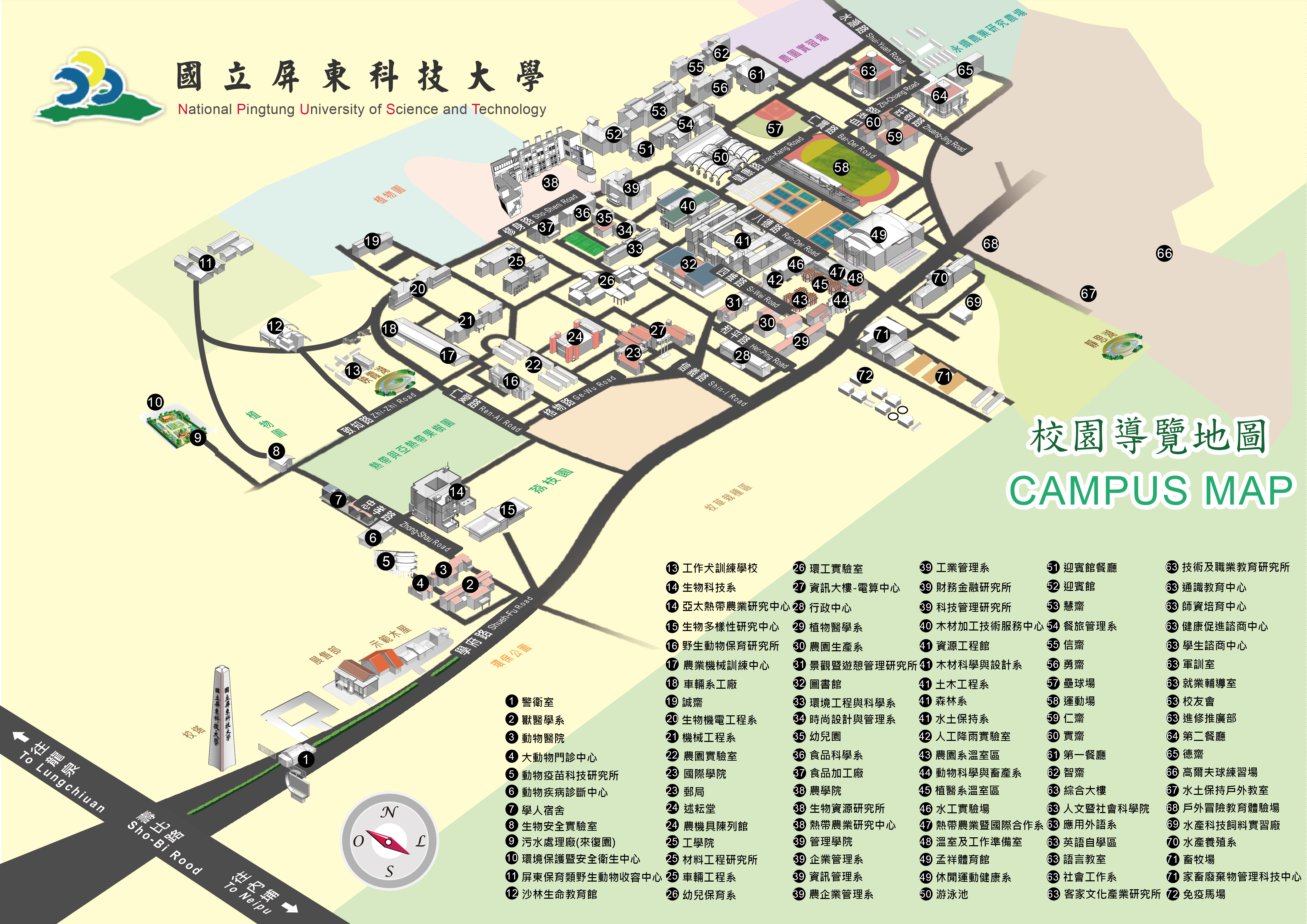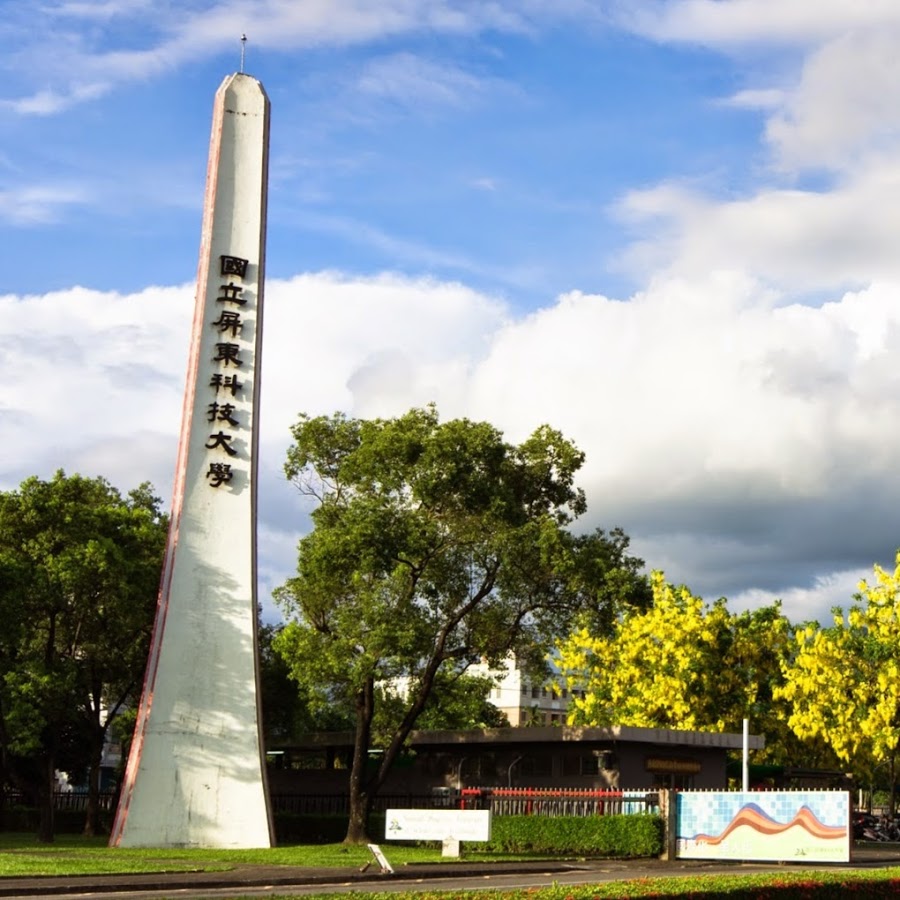 Features
Accommodation

Student Restaurant

Scholarship

Related Certificate
Location:

South, Pingtung County

Established Date:

2010
Chinese Language Division,Language Center, National Pingtung University of Science and Technology
Teachers:

Full-time teacher 0 people, Part-time teacher 4 people

Contact Person:

Kate Wang

Email:

npust.clc@gmail.com

Telephone:

886-8-7703202#7715

FAX:

08-7740274
Admission Conditions:
Application Information Chinese language classes at the CLC are open to persons who possess at least high school diploma or its equivalent. Applicants are encouraged to have a good academic record and exhibit sincere interest in learning Chinese. Owing to the large number of applications each quarter and in order to allow enough time for newly admitted students to receive a visa, prospective students are encouraged to submit their application materials as early as possible. All application materials must be received before the application deadline and will not be returned once submitted.
Related Assistance:
Most Visitor visas are initially valid for only sixty days. However, upon the students' arrival in Taiwan, they may apply for two additional sixty-day extensions (maximum stay of up to 180 days) at a local Immigration Agency.
Please apply for the Certificate of Enrollment and Attendance Record at CLC one week before you go to extend the visa.
After four months of consecutive study at the CLC, with good academic records, students are able to go to National Immigration apply to change their visitor visas to alien residential visas. Students who are absent for more than one-third of total course hours are not allowed to extend visa and apply for alien residential visa.
**Please note that Taiwan's Ministry of Foreign Affairs sometimes requires students to have a guarantor or contact person before a visa is issued. According to the policy of the Ministry of Education, the CLC staff is not allowed to act as a guarantor. **
Be sure that you understand the rules and regulations regarding visas before you leave your country. For further details, contact the nearest Taiwan embassy, consulate or representative agency, or check the following websites:
(1)Bureau of Consular Affairs, Ministry of Foreign Affairs http://www.boca.gov.tw/mp?mp=1
(2) National Immigration Agency https://www.immigration.gov.tw/mp.asp?mp=1
How Do I Get a Taiwan Student Visa?
If you are going to register for classes at a ministry-approved Taiwanese Mandarin school before arriving in Taiwan, you'll want to apply for the Taiwan Student Visitor Visa in your home country once you have your confirmation of enrolment from your school.
Do I need a Student Visitor Visa or just a regular Visitor Visa?
If you're planning on staying in Taiwan for longer than a few months, you're going to want to get a Student Visa. A Student Visa allows you to stay in Taiwan and study Mandarin for up to 180 days as long as you remain a full-time student at an approved school. If you decide to stay longer than 180 days, you can apply for a resident visa only after having had your student visa for 4 months. Getting a student visa first is the only way to get your resident visa.
(Unless you want to work rather than study in Taiwan.)
What do I need to apply for a Student Visitor Visa?
To apply for the Student Visitor Visa, you'll need to bring the following items to the TECO office in your country or wherever you happen to be getting your visitor visa from. If you're already in Taiwan and want to switch to a Student Visitor Visa, you'll need to leave Taiwan on a Visa Run and visit a TECO office in another country to apply for the visa.
(1) Certificate of Enrollment from your Mandarin School in Taiwan
(2) Record of Attendance (only if you've already started Mandarin classes in Taiwan)
(3) Attendance Form for the current month (again, only if you've already started Mandarin classes)
(4) Original and photocopy of your passport
(5) Your Chinese Study plan (around 200 words describing the reasons you're choosing to study Chinese in Taiwan, your goal for your studies and your future plan. Be sure to sign your name on the study plan.)
(6) Financial Statement (from within the last 3 months) showing an account balance of at least $80,000NT or equivalent
(7)Two 2-inch photo
So with a Taiwan student visitor visa, I can stay in Taiwan as long as I'm a student?
No. A Student Visitor Visa is valid for a maximum of 180 days. If you're staying in Taiwan long-term, it's expected that after your fourth month you'll apply for the Taiwan Resident Visa and Alien Resident Card. At the end of 180 days, if you haven't applied for your resident visa yet you'll need to leave Taiwan and apply for a student visa all over again. Also, when you enter Taiwan with your student visa for the first time, they'll stamp a date in your passport – usually 60 or 90 days. You'll need to either extend your student visitor visa or leave the country before that date. Your student visitor visa can be extended multiple times up to the maximum 180 days. When your visitor visa is set to expire, you'll need to print up a few forms from your school and bring them to the immigration office for them to renew.
How is a student visitor visa different from a visitor visa?
A quick note about terms here in case you were confused, both the Student Visitor Visa and Visitor Visa are called Visitor Visas and basically look the same. The only difference between the two is that a Student Visitor Visa has the two letters "FR" printed in the remarks field on the visa they insert into your passport.
ALL INFORMATION IS FROM THE WEBSITE OF Bureau of Consular Affairs, Ministry of Foreign Affairs AND The Study Chinese in Taiwan Blog.
School Introduction:
National Pingtung University of Science and Technology (NPUST) was founded in 1924 under the name of "Kaohsiung State Pingtung Extension School of Agriculture." Subsequently in 1928, this school was expanded and renamed as "Kaohsiung State Pingtung Agricultural School". After Taiwan was liberated from Japanese colonial rule in August 1945, this school again changed her name to "Taiwan Provincial Pingtung Agricultural Vocational School of Agriculture" in November of that year. This school was then upgraded to "Taiwan Provincial Institute of Agriculture" in 1954, enabling a subsequent integration of this Institute with the Pingtung Agricultural Vocational High school in 1963. After this integration, the Institute went through a series of upgrades and name changes, including "Taiwan Provincial Pingtung Institute of Agriculture" in 1964, "National Pingtung Institute of Agriculture" in July 1981, "National Pingtung Polytechnic Institute" in July 1991, and then the "National Pingtung University of Science and Technology" in August 1997. Currently NPUST has a total of 27 departments and 32 graduate institutes offering Master's degrees and 8 Doctoral programs. These departments and graduate institutes are distributed among four colleges: agriculture, engineering, management, and humanities and social sciences. NPUST's undergraduate school currently offers baccalaureate degrees to graduates of a four-year program and a two-year program. The four-year program admits students graduating from vocational high schools or their equivalents, while the two-year program admits students graduating from vocational institutes and their equivalents. NPUST has also established a night school to admit students with at least one year's work experience. NPUST's graduate school offers master and doctoral degrees in more than thirty disciplines that cover the Colleges of Agriculture, Engineering, Management, as well as Humanities and Social Science. A candidate to a master's degree requires a bachelor's degree in a related field; whereas, the doctoral degree is offered to researchers and professionals with a master's degree from any university. Graduate programs at NPUST also provide opportunity of part-time study during weekends for those with at least one-year work experience while holding current job active. Moving towards specialized research university, NPUST actively pursues her academic excellence to become one of the key academic bastions in the Asia-Pacific Region. In addition to offering lectures in Chinese, NPUST also offers 106 credit hours of courses in English. In positioning herself to become one of the world's leading academic institutions, NPUST has established links with more than 30 world renowned universities through various academic exchanges, distance education, faculty and students exchanges, sharing of resources, and jointly conducting research. The three main educational goals of NPUST are elaborated as follows: Spiritualization – Through education, nurturing and warm caring, NPUST's students are positively influenced to develop a healthy and complete personality. NPUST's students are educated to become not only a competent professional but also a worthy member of the society with strong social responsibilities and a civilized person with fine intellectual and aesthetic tastes. Professionalization – Constantly aware of the needs of labor markets, NPUST trains students to possess solid abilities to work, to learn and to create or invent to meet the demands of labor markets. Students are encouraged to pursue careers in scientific or technological research and development or in business management so as to enhance the promotion of industries in the nation. Internationalization – In keeping with the trend of internationalization, NPUST's students are cultivated to acquire intellectual and aesthetic qualities enabling them to establish a strong foothold in the global community. The qualities to be acquired includes improving international language abilities, enhancing knowledge of international society, and understanding the development of international politics and economics. The final goal is to enable students to become more competitive internationally.
Others:
General Course
The academic year is divided into two semesters which is based on the school's calendar. Class duration, total hours, tuition and application deadline are as follows:



| | | | | |
| --- | --- | --- | --- | --- |
| Terms | Class Duration | Total Hours | Tuition(approx.) | Application Deadline |
| Fall Semester | Sep. ~ Jan. | 270 | NT$37,800 | August 15th |
| Spring Semester | Feb. ~ Jun. | 270 | NT$37,800 | August 15th |
◎Time of the Course:
Dates: Monday to Thursday
Hours: 8:10am-12:00pm
15 hours per week , 18 weeks per semester , total of 270 hours
‧Tuition are paid to the school's foundation.
‧Textbook fees, insurance, internet access charge are not included within the course fee.
‧All fees and amount listed above are subject to change.
‧We reserve the right to amend the information provided without prior notice.
Short-Term Program
Class duration, total hours, tuition, and application deadline are as follows:


Jan.~Feb.

Winter Intensive Course




Mar.~Jun.

Semester Course (Spring Semester)




Jul. ~ Aug.

Summer Intensive Course




Sep.~Jan.

Semester Course (Fall Semester)





‧The tuition is $150 per hour.
‧The tuition fees do not include accommodation, teaching materials, and other activities.
‧All fees and amount listed above are subject to change.
‧We reserve the right to amend the information provided without prior notice.