Find Courses
:::
Chinese Culture University, Mandarin Learning Center
URL:https://mlc.sce.pccu.edu.tw/default.aspx?language=en

Features
Scholarship

Extracurricular teaching

Related Certificate

Near High-Speed Rail Station

Near Train Station

Near MRT Station
Contact Person:

MLC( Mandarin Learning Center)

Email:

mlc@sce.pccu.edu.tw

Telephone:

886-2-2700-5858 ext.8131~8136

FAX:

886-2-2708-1257
:::
Free culture class/ activities-MLC
The MLC will be presenting a series of FREE Chinese Culture Class/ Activities just for our international friends in Taiwan! The MLC believes that 'language' and 'culture' go hand in hand. While learning Mandarin, you can also experience and learn more about Chinese culture.The original tuition value is NT$20,000 per person!
Find out how you qualify and how you can register!
Also, invite your international friends to come along and join us!
How to Register:
Online application form : https://pse.is/QPZTC
1. All international citizens or international students enrolled in any other university may enroll for one free session with no other conditions attached.
2. All classes and course materials are free of charge. Limited seats are available, please register early to guarantee your attendance at the class.
Notes:
Any international citizens - including currently enrolled in Mandarin Learning Center (MLC) students at the Chinese Culture University are all can register.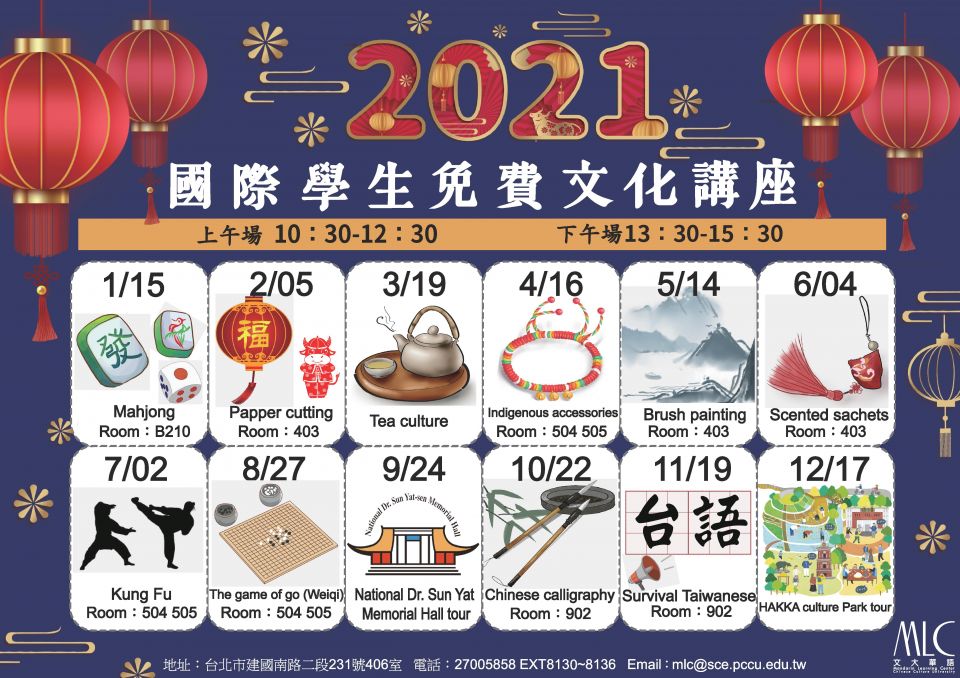 Classification:
Other types of classes
Class Period:
Within one week
Offering courses frenquency:
Monthly
Session:
上午場 10:30-12:30、下午場13:30-15:30