Find Courses
:::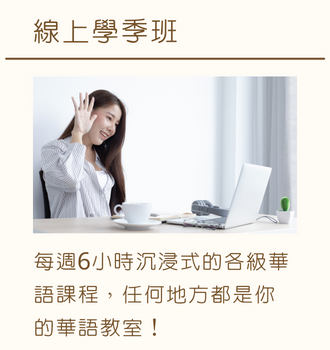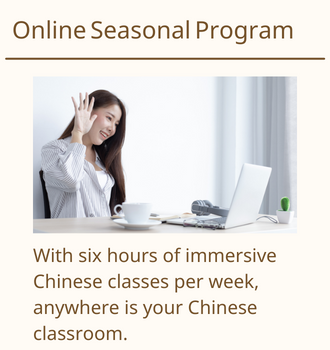 Chinese Language Teaching and Study Center, National Taitung University

Features
Student Restaurant

Extracurricular teaching

Near Train Station
:::
【CLOK】Online Fall Seasonal Chinese Program
Course Feture
Just turn on CLOK, Chinese classroom will be no distance.
1. Total 10 weeks courses, for 2 hours each class, 6 hours every week for immersive Chinese classes.
2. According to students' Chinese ability, there are three levels of classes: Beginner, Intermediate, and Advanced.
3. All the classes are taught by Chinese and focus on speaking, writing, listening, and writing.
4. Learning topics are mainly related to daily life, including Taiwanese daily conversation, Cultures, Travels, etc.
5. According to students' learning process, teachers can offer some helps and counsels.
Prospective student
1. Suits for different levels of Chinese learner.
2. The student who wants to learn the culture of the life.
Note:
1. The application day, registration day, and class start and end dates, in the event of a national holiday, typhoon, natural disaster, etc., announcing the suspension of work will be postponed one day.
2. If there is any adjustment, and the center reserves the right to adjust and notify.
3. CLTSC will separate classes according to the result of CLOK Language Test.
4. The class won't open if the numbers of applicants don't reach the minimum numbers by the application deadline, the staffs will send letters to notice you.
Course time
Class Schedule
B class
F class
I class
(UTC/GMT: 8:00)

Monday, Wednesday, Friday

10:00-12:00

Monday, Wednesday, Friday

21:00-23:00

Tuesday, Thursday, Saturday

13:00-15:00
Course fee
Hours

1 on 2

(NT$500/per person)

1 on 3-6

(NT$400/per person)

60 hours
NT$30,000
NT$24,000
Note:CLTSC new students have to pay the new registration fee of NT$1,750
Textbook Content
1. According to students'language ability, uses different levels and various topics of teaching materials.
2. According to students'learning requirements, teachers will put some additional informations related to the topics.
Teaching Materials:
《當代中文課程》,《時代華語》,《實用視聽華語》,《遠東生活華語》, self-designed teaching material.
Classification:
On-line courses
Class Date:
2023.08.29 - 2023.11.09
Registration Deadline:
2023-08-07
Levels
Advance,Upper Intermediate,Intermediate,Pre-intermediate,Elementary ,Beginning