Find Courses
:::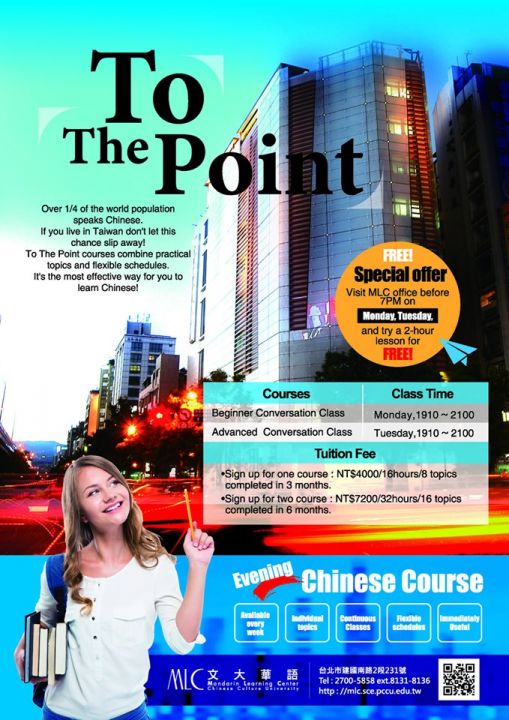 Chinese Culture University, Mandarin Learning Center
URL:https://mlc.sce.pccu.edu.tw/default.aspx?language=en

Features
Scholarship

Extracurricular teaching

Related Certificate

Near High-Speed Rail Station

Near Train Station

Near MRT Station
Contact Person:

MLC( Mandarin Learning Center)

Email:

mlc@sce.pccu.edu.tw

Telephone:

886-2-2700-5858 ext.8131~8136

FAX:

886-2-2708-1257
:::
For those wishing to focus on strengthening speaking abilities, every Conversation Class lesson contains functional sentences and common vocabulary terms in addition to many types of situations, making each class immediately adaptable to real life settings. Altogether, the course comprises 72 independent topics, all carefully chosen, in order to give students experience speaking in a wide range of daily life situations. Through a combination of Chinese culture and interactive teaching methods, this course will strengthen fluent communication and everyday knowledge, and help students to smoothly navigate everyday situations using Chinese. Within a three month period, students may complete eight classes at their leisure, making this course suitable for expatriates with a busy work schedule. Students may freely select the classes they prefer to improve their Chinese conversation ability.
The MLC offers practical conversation night classes. Prospective students are welcome to come in for a trial class to see why we are the best in town! Below are the specifics of each course.

 

 

Available Every Week


To the Point meets every Monday (Beginner class) and Tuesday (Advanced class), with new students being accepted every week. After signing up you may start attending classes the following Monday or Tuesday.



Independent Topics


To the Point is designed with a different, independent topic every week, with no connection to previous classes.



Continuous Classes

The Monday Beginner Conversation class is a continuous term with a total of 36 topics. This class is for beginners with very little knowledge of Chinese.

The Tuesday Advanced Conversation class is a continuous term with a total of 36 topics.  This class is for those who have a good knowledge of Chinese and can communicate conversationally.


Flexible Schedule
To the Point students may study eight topics over a period of three months. Should work or family matters prevent you from attending class, your right to attend eight classes within the three month period is guaranteed.
 

Immediately Usable
To the Point courses will cover daily life and work related topics, using two hours to cover functional, immediately usable topics.
Classification:
Other types of classes
Offering courses frenquency:
Weekly
Levels
Intermediate,Pre-intermediate,Elementary ,Beginning